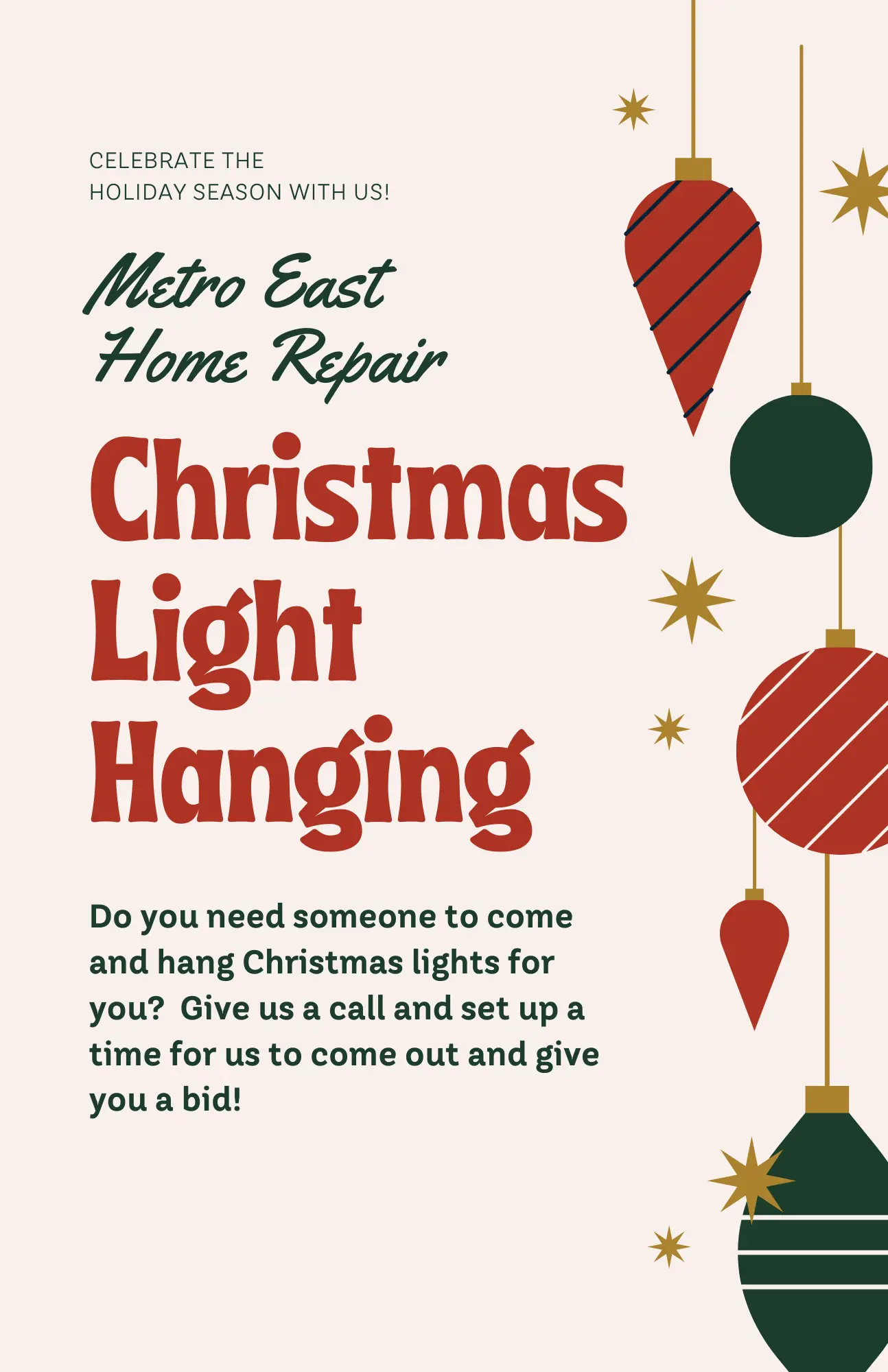 Christmas Lights Belleville IL Installation
It is that time of year again!  Metro East Home Repair is your local Christmas Lights Belleville, IL installation team.  You can't call Christmas complete until you see twinkling lights strung around poles and sparkling in trees. We can transform any home, no matter how small or large. We can transform your home into a winter wonderland by changing the roofline, landscape or lighting trees. Our Christmas light experts are specialists in residential Christmas light installation. We are happy to help you design your home or make your ideas a reality. Start today with a complimentary free estimate and design consultation!
Some things to consider:
 Are you supplying the lights, or are we supplying the lights?

It is much less expensive if you supply the lights, but we can put up our own lights and take them down at the end of the season so you don't have to store them.

How many stories are you looking to have lit?

This will affect the cost of hanging lights due to the amount of equipment needed for the job.

We charge based on the linear foot of lighting installed.  The more lights you have, the more expensive the job will be.
Although Christmas lights Belleville, IL can be beautiful, they can also be very laborious. In the cold, climbing up a ladder. We won't even begin to discuss the task of untangling and repairing lights. It's not fun trying to locate that one burned out bulb in a strand of lights.
Belleville IL Christmas Lights
Our Belleville IL Christmas lights hanging crew will take care of all the details while you enjoy Christmas music and hot cocoa. Our service department will ensure your lights remain lit throughout the holiday season by answering any maintenance call that you have. You will be able to enjoy the holidays with less stress if you hire a professional Christmas lighting company.
Our Christmas light installers can help you create a beautiful, simple look using only roofline lighting and a large sparkling Christmas wreath and garland if you decide to have one put up.
Design and Quote – There are many Christmas lighting designs and styles. No two are the same. A complimentary free consultation is the first step to achieving your holiday lighting vision and dream. Each design is customized to your requirements and expectations will be set prior to install. Our professional Christmas light installers can meet you to discuss your ideas or help you design a look and feel. Our professional Belleville IL Christmas lights installation team can help you make your vision a reality. With stunning and captivating displays, our holiday lights are unmatched.
Installation – Our installers are equipped with the right tools and the experience to complete the job. Each Christmas light installer is fully qualified to install your Christmas lights with the best possible results. The systems and methods they use to install your lights efficiently and quickly are proven efficient and reliable. Our goal is to provide professional, high-quality installation services for our customers.
Maintenance – Our goal is to make holiday lighting easier and allow you to spend more time with your loved ones. We will fix your bulbs if they go out, or if there is an unexpected storm that affects them. We'll make sure that your holiday lights look great throughout the season.
Christmas Lights Belleville IL Takedown and Removal
After the season is over, our crews will return to your location to remove your Christmas Lights Belleville IL display with the same care and attention as your installation. The removals will begin after the new year begins, at a time that works best for you and your family (weather permitting).  We will work with you on the best time to come out and take down the Christmas lights so you and your family can enjoy them for as long as possible.
Hanging Christmas lights can bring back some pleasant or unpleasant memories. There is a danger of lights breaking and shorting out the entire strand, or even falling from a ladder and injuring yourself.  It can be a time consuming process that you may not have the time for.  Holidays are a time for family and friends to enjoy good food and good company, while creating lasting memories. We hang Christmas Lights so you don't have to.  All you have to do is give us a call at the number below to schedule an appointment.  Soon you will be sitting back and admiring the sparkling display and sipping your hot cocoa or wine. Our Christmas lights Belleville IL installation team will handle all aspects of your Christmas decorations.